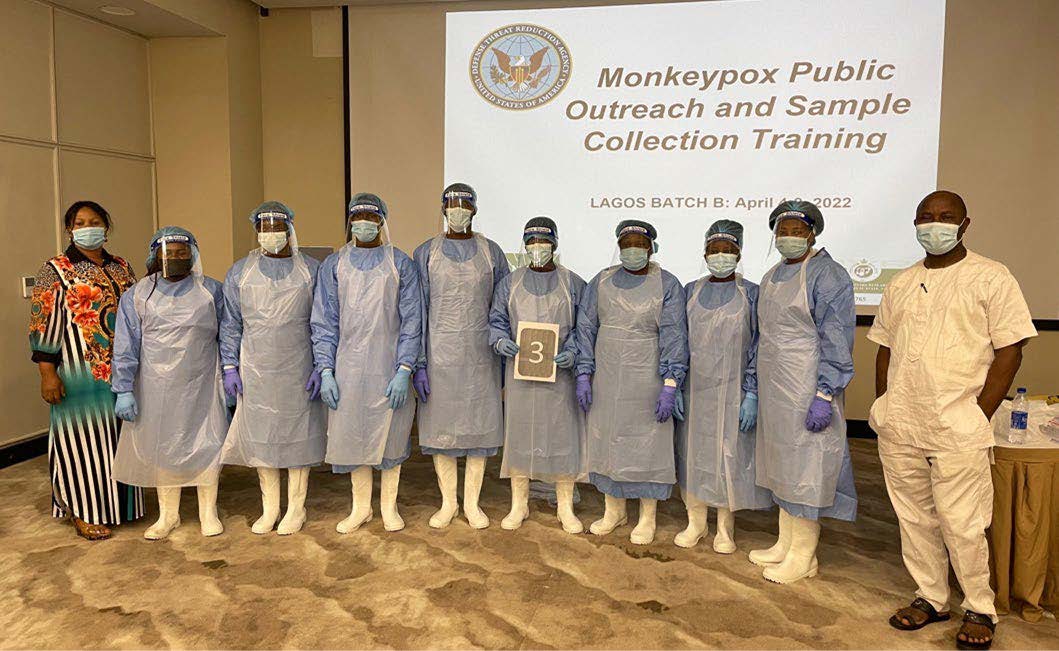 The Walter Reed Army Institute of Research (WRAIR) Emerging Infectious Diseases Branch, HJFMRI, USAMRD-A/N and collaborators in Nigeria completed Monkeypox (MPX) Public Outreach and Sample Collection Training in March/April 2022, funded by a grant from the U.S. Defense Threat Reduction Agency (DTRA).
The program provided comprehensive training for 120 Nigerian human and animal healthcare workers and other stakeholders on generalized MPX outbreak detection and public outreach efforts following international best practices and national reporting guidelines. The trainees were drawn from across the six geopolitical zones of Nigeria, and the training sessions were held in Lagos and Abuja.
The training was provided in partnership with the DTRA Biological Threat Reduction Program, Leidos, Ministry of Defence Health Implementation Programme (MODHIP), Nigeria Centre for Disease Control (NCDC), and the National Veterinary Research Institute (NVRI).  It focused on enhancing the ability of trainees to recognize symptoms and signs of monkeypox, building their capacity to perform safe sample collection/management for monkeypox diagnosis, and improving their  knowledge and proficiency in infection prevention and control. The training also dealt on improving animal surveillance, sample and case management, and enhancing risk communication in public emergencies.  Finally, the trainees developed the capabilities for the transfer of acquired competencies to their regional counterparts.
MPX is a zoonotic infection caused by the MPX virus. It is endemic in the rainforest regions of Central and West Africa. Between 1970 and 2017, several MPX outbreaks and re-emergence were reported in those regions. Imported cases of MPX in Europe and the United States and the evolving epidemiology of the ongoing  multi-country outbreak have heightened the public health concern.